Trading Package Trade Setup Scanners and Price Alerts
Home

Trading Package Trade Setup Scanners and Price Alerts
Active Trader Setups Trading Package
Trend Shift Pivot Zones and Bull/Bear Zone Scanners
Using the Market Analyzer Scanners have been Pre Built to create alerts on Trend Shift from Green Zone to Red Zone or Red Zone to Green Zone.  These can be used on any Algo Factor for Day Trading or Swing Trading Setups.

It is possible to scan for Green Zone Alerts on a 25 Algo Factor chart only on stocks that are already Green Zone on a 50 Algo Factor chart.  This gives you a stock pulling back and reversing back up on a higher factor Up Trending Stock for a Higher Probability Trade Setup.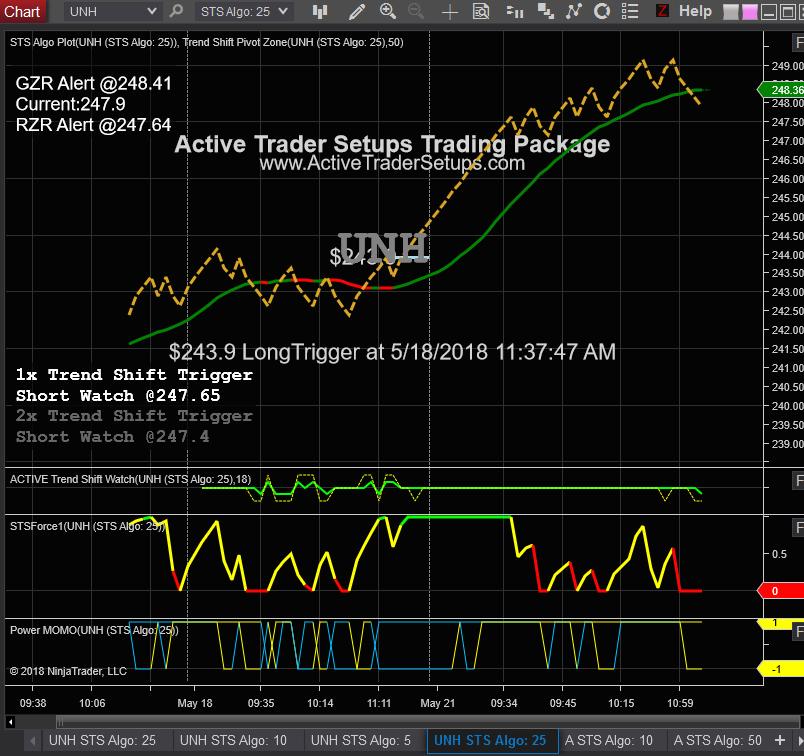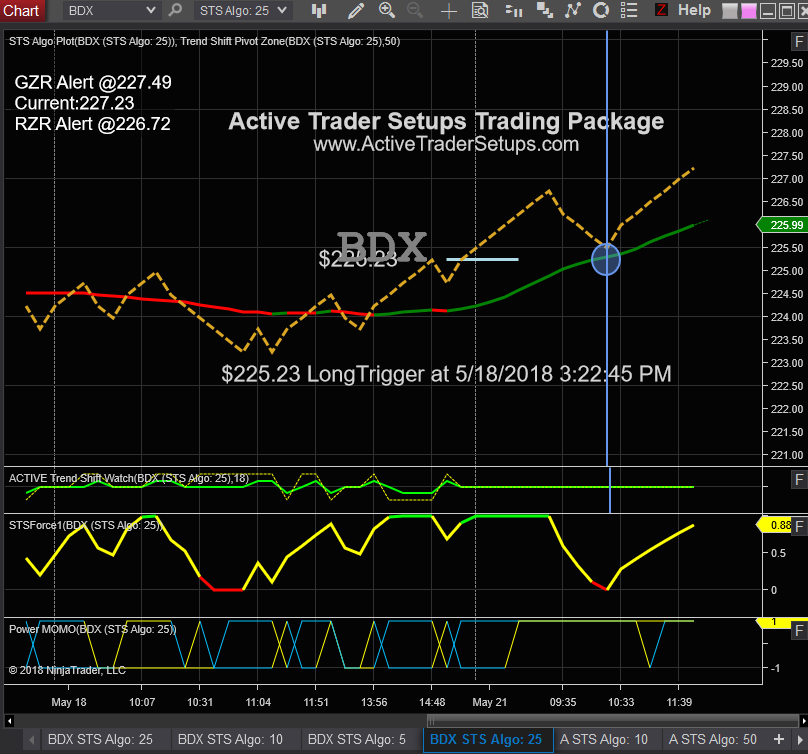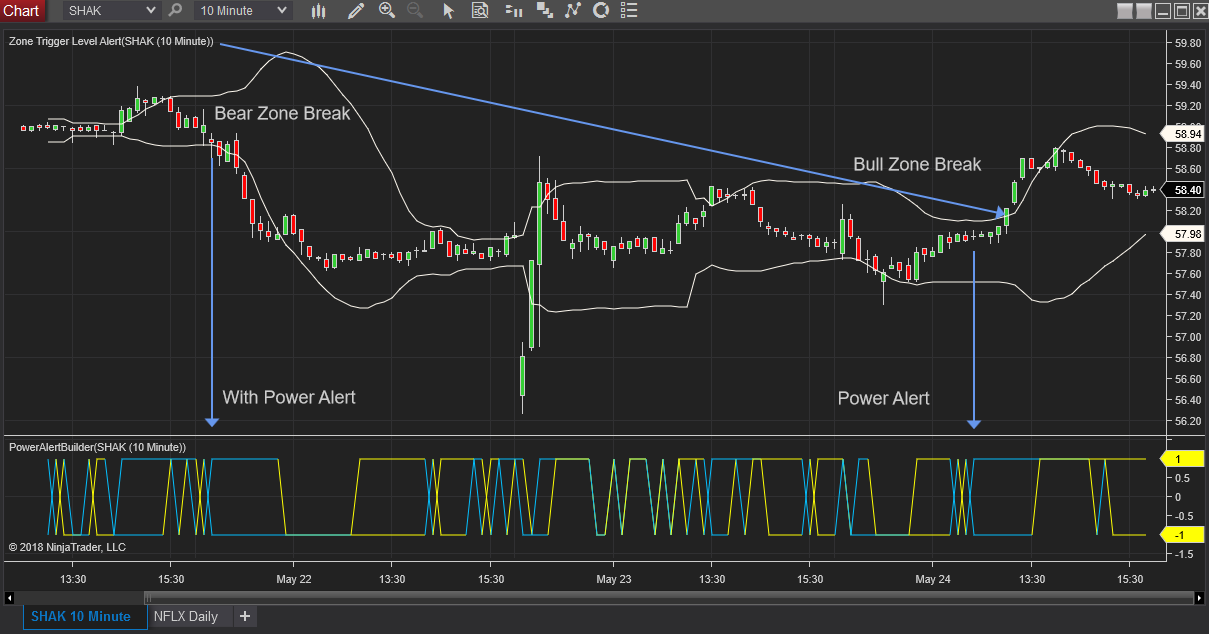 The above chart is a 10 minute with the Bull Zone and Bear Zone Trigger levels plotted.  The lower indicator is the Power Momentum used to identify stocks that are strong in there price break.  This Chart Template can be change to any time frame from 1 minute to Weekly.
Pre Built NinjaTrader Scanners for the Bull and Bear Zone Alerts on many time frames from 10M through Weekly Charts.  Alerts are created in the Market Analyzer and will appear in alert logs.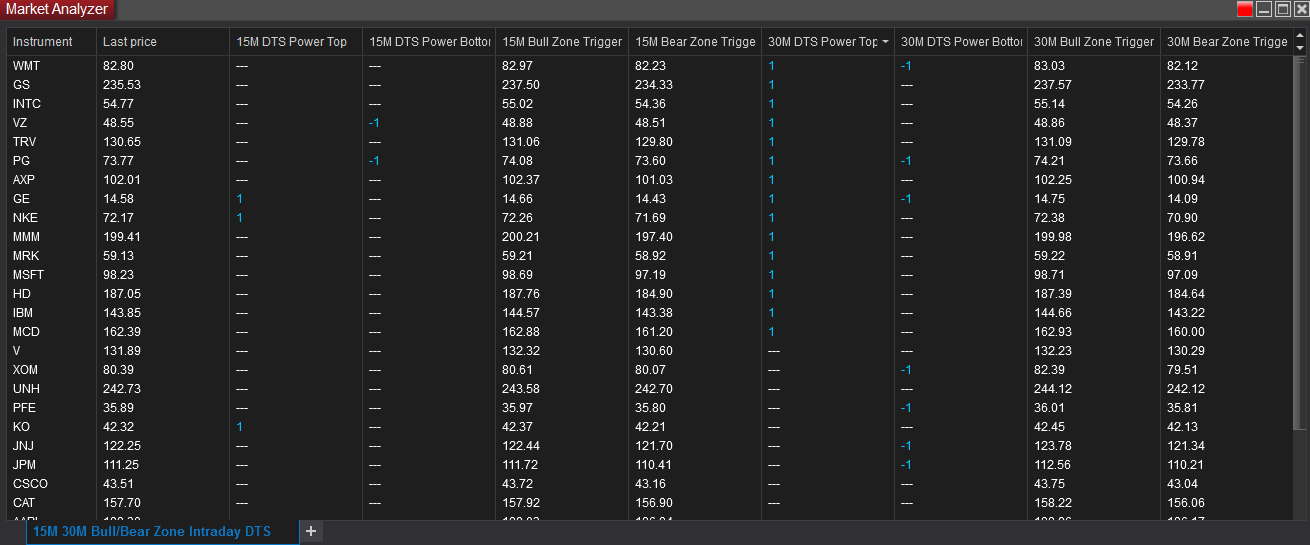 End of Day Scanners can be loaded on Daily and Weekly Tabs and using the Kinetick free End of Day data connection you can scan for the Bull and Bear Zone Alerts on a larger symbol list.  This will allow you to scan for more Breaking Stocks on Daily and Weekly Charts to create Day Trading and Swing Trading Watch List.
The chart of SHOP the 2 previous day charts the stock was in the Green Zone and Up Trending.  During the current Trading Session SHOP crossed into a Down Trend and is now in the Red Zone.
The End of Day 50 100 Red Zone Cross Over Report (shown to the lower right) would show a red color YES in the 50 Red Zone Cross Over column
These End of Day Reports are excellent for setting up Swing Trades or a Day Trading Watch list the next trading session.
All of the Market Analyzer report and scanner tabs can be loaded with the Traders personal preference stock list.  These can be changed by clients as they choose.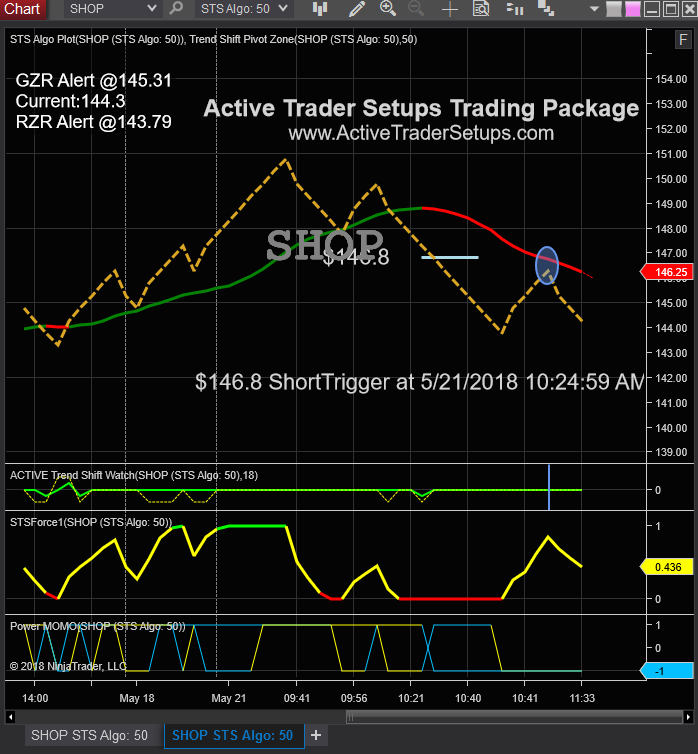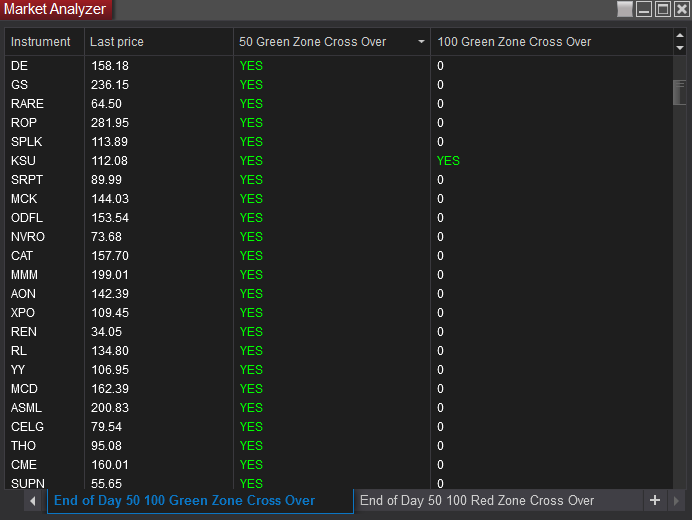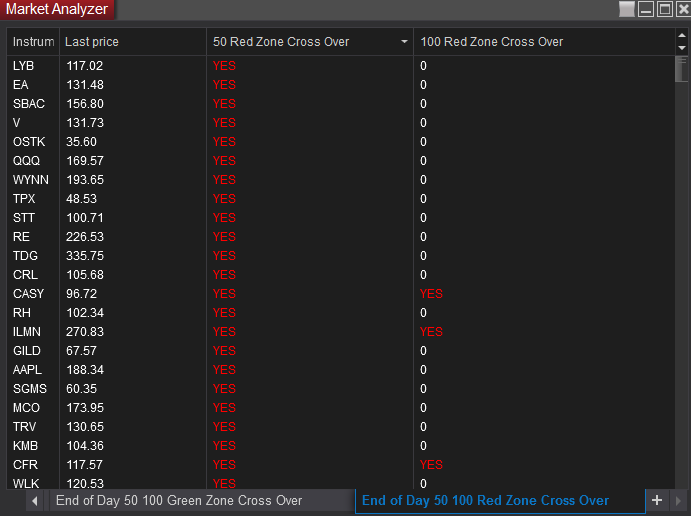 This custom End of Day Reports can be set up on for any factors for Traders Personal Watch List.  They check the Today's close Trend Status compared to Yesterday close Trend Status and indicate YES if there was a Trend Shift during today's session.
Active Trader Setups Trading Package
Sign up Today. Take advantage of FREE Education and Training Videos on our http://youtube.daytradersetups.com Education Channel. Complete Trading Package. Create your Trading Plan Today. Visit our Trader Members Area for in depth package content.
As a Subscriber to our Service and Chart Trading Setups Members acknowledge their responsibility to perform Due Diligence of stocks featured.  We are not financial advisers and we perform NO Fundamental Analysis.  We are only Price Action and Momentum driven in our Trading Charts and Price Alert Watch Triggers.
SPECIAL CAUTION should always be given to stocks about to have earnings releases and we recommend NOT being in a short term swing trade into a Earnings Release.  At the same time using our Trading Package and Charting indicators can prepare you for the after Earnings Release Trade Setups.  Subscribers also Acknowledge awareness of News and Chatter Effects on Stock Prices.
Sign Up today to be Notified of our Next Guest Live Q&A Event
We will email you with our next scheduled Live Q&A Date
Sign Up today to be Notified of our Next Guest Live Q&A Event
Sign Up today to be Notified of our Next Guest Live Q&A Event